Myocarditis Market to Register Stunning Growth During the Forecast Period (2023-2032) – DelveInsight | Key Companies – Cantargia AB (CAN10), Cardiol Therapeutics (Cannabidiol), Apitope
As per DelveInsight, the Myocarditis Market is anticipated to evolve immensely in the coming years owing to the rise in the number of cases of Myocarditis and the launch of new therapies in the market.
DelveInsight's "Myocarditis Market Insights, Epidemiology, and Market Forecast 2032" report delivers an in-depth understanding of the disease, historical and forecasted epidemiology, as well as the Myocarditis market size, share, trends, and growth opportunities in the seven major markets (7MM) (i.e., the United States, EU4 (Germany, Spain, Italy, France), the United Kingdom and Japan).
The report covers emerging Myocarditis drugs, current treatment practices, market share of individual therapies, and current & forecasted market size from 2019 to 2032. It also evaluates the current Myocarditis treatment practice/algorithm, key drivers & barriers impacting the market growth, and unmet medical needs to curate the best of the opportunities and assess the underlying potential of the market.
Myocarditis: An Overview
Myocarditis is a medical condition characterized by inflammation of the myocardium, which is the muscular middle layer of the heart wall responsible for pumping blood. This inflammation typically occurs due to viral infections, although it can also result from bacterial, fungal, or parasitic infections, as well as autoimmune disorders and certain medications. The total Incident population of Myocarditis associated in 7MM countries was estimated to be 171,000+ in 2017.
Myocarditis can vary in severity, and in mild cases, it may go unnoticed or cause only mild symptoms. However, in more severe cases, it can lead to significant heart dysfunction, potentially causing symptoms such as chest pain, shortness of breath, fatigue, and irregular heart rhythms. In severe cases, it can even lead to heart failure or sudden cardiac death.
Treatment of myocarditis includes general nonspecific measures to treat heart disease sequelae, including heart failure (HF) therapy and treatment of arrhythmias according to current guidelines and scientific statements. Mechanical circulatory support and transplantation may remain a potential last resort for refractory heart failure patients, despite optimum medical therapy.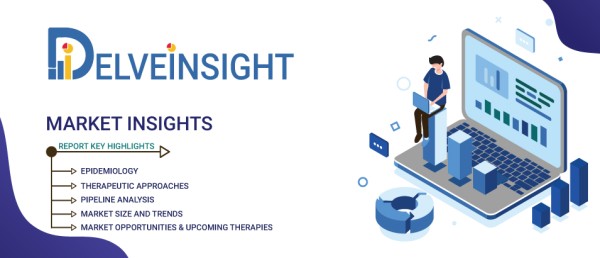 The market outlook section of the report helps to build a detailed comprehension of the historical, current, and forecasted market size by analyzing the impact of current and emerging Myocarditis pipeline therapies. It also thoroughly assesses the Myocarditis market drivers & barriers, unmet needs, and emerging technologies set to impact the market dynamics.
The report gives complete details of the market trend for each marketed Myocarditis drug and mid & late-stage pipeline therapies by evaluating their impact based on the annual cost of therapy, their Mechanism of Action (MOA), Route of Administration (ROA), molecule types, competition with other therapies, brand value, and their impact on the market.
Myocarditis Epidemiology Assessment
The epidemiology section provides insights into the historical, current, and forecasted Myocarditis epidemiology trends in the seven major countries (7MM) from 2019 to 2032. It helps to recognize the causes of current and forecasted Myocarditis epidemiology trends by exploring numerous studies and research. The epidemiology section also provides a detailed analysis of diagnosed and prevalent patient pools, future trends, and views of key opinion leaders.
The Report Covers the Myocarditis Epidemiology, Segmented as –
Total Incident Cases of Myocarditis

Gender-specific Cases of Myocarditis
Myocarditis Drugs Uptake and Pipeline Development Activities
The drug uptake section focuses on the uptake rate of potential drugs recently launched in the Myocarditis market or expected to be launched during the study period. The analysis covers the Myocarditis market uptake by drugs, patient uptake by therapies, and sales of each drug. Moreover, the therapeutics assessment section helps understand the market dynamics by drug sales, the most rapid drug uptake, and the reasons behind the maximal use of particular drugs. Additionally, it compares the Myocarditis drugs based on their sale and market share.
The report also covers the Myocarditis pipeline development activities. It provides valuable insights about different therapeutic candidates in various stages and the key Myocarditis companies involved in developing targeted therapeutics. It also analyzes recent developments such as collaborations, acquisitions, mergers, licensing patent details, and other information for emerging therapies.
Learn How the Myocarditis Market Will Evolve and Grow by 2032 @
https://www.delveinsight.com/sample-request/myocarditis-market
Myocarditis Therapeutics Analysis
The management of myocarditis primarily involves providing supportive care, alongside addressing any identifiable causes. Depending on the underlying cause, treatment may involve antiviral or immunosuppressive measures. Patients who experience heart failure should be administered standard treatments, which may include beta-blockers, angiotensin-converting enzyme inhibitors or angiotensin II receptor blockers, and diuretics if necessary. It's important to note that immunosuppressive therapy has not demonstrated clinical benefits and should not be routinely used, unless in patients with underlying systemic autoimmune or granulomatous inflammatory conditions. Symptomatic individuals who present with new-onset heart failure, severe arrhythmias, conduction abnormalities, or hemodynamic instability may require mechanical circulatory support, although these cases are rare and should be promptly identified and aggressively managed.
To further improve the treatment outlook, several major companies are developing therapies for Myocarditis. Currently, Cardiol Therapeutics is leading the therapeutics market with its Myocarditis drug candidates in the most advanced stage among the competitors.
Myocarditis Companies Actively Working in the Therapeutics Market Include
Cantargia AB

Cardiol Therapeutics

Apitope
And Many Others
Emerging and Marketed Myocarditis Therapies Covered in the Report Include:
Cantargia AB's CAN10 is currently in the preclinical phase of drug development. CAN10 is a new antibody that is being developed against IL1RAP. The company is aiming to develop this antibody for the treatment of inflammatory and autoimmune diseases that involve these interleukin pathways (IL-1, IL-33, and IL-36).
Cannabidiol: Cardiol Therapeutics
Cannabidiol, also known as CARDIOLRX, is being developed by Cardiol Therapeutics for the treatment of acute myocarditis. The mechanism of action of CBD is not completely understood. However, it is known that it acts on cannabinoid receptors which are a part of the endocannabinoid system, and these receptors are present in various areas of the body. Currently, the company is carrying out the Phase I study of the drug candidate and soon plans to conduct a Phase II study to evaluate the effects of the drug on myocardial recovery in acute myocarditis patients.
Download the Sample Report to Learn More About the Key Companies and Emerging Therapies @
https://www.delveinsight.com/sample-request/myocarditis-market
Table of Content (TOC)
1. Key Insights
2. Executive Summary
3. Myocarditis Competitive Intelligence Analysis
4. Myocarditis Market Overview at a Glance
5. Myocarditis Disease Background and Overview
6. Myocarditis Patient Journey
7. Myocarditis Patient Population and Epidemiology Trends (In the US, EU5, and Japan)
8. Myocarditis Treatment Algorithm, Current Treatment, and Medical Practices
9. Myocarditis Unmet Needs
10. Key Endpoints of Myocarditis Treatment
11. Myocarditis Marketed Therapies
12. Myocarditis Emerging Drugs and Latest Therapeutic Advances
13. Myocarditis Seven Major Market Analysis
14. Attribute Analysis
15. Myocarditis Market Outlook (In US, EU5, and Japan)
16. Myocarditis Companies Active in the Market
17. Myocarditis Access and Reimbursement Overview
18. KOL Views on the Myocarditis Market
19. Myocarditis Market Drivers
20. Myocarditis Market Barriers
21. Appendix
22. DelveInsight Capabilities
23. Disclaimer
*The Table of Contents (TOC) is not exhaustive; the final content may vary. Refer to the sample report for the complete table of contents.
Request the Sample PDF to Learn More About the Key Offerings of the Report @
https://www.delveinsight.com/sample-request/myocarditis-market
About DelveInsight
DelveInsight is a leading Business Consultant and Market Research Firm focused exclusively on life sciences. It supports pharma companies by providing comprehensive end-to-end solutions to improve their performance.
Other Trending Healthcare Reports by DelveInsight
"Myasthenia Gravis Market Insights, Epidemiology, and Market Forecast-2032" report delivers an in-depth understanding of the historical and forecasted epidemiology as well as the Myasthenia Gravis market size, share, trends, and growth analysis in the seven major markets (i.e. the United States, EU5 (Germany, Spain, Italy, France, and the United Kingdom) and Japan. Moreover, it also covers the current treatment practices, emerging drugs, market drivers, market barriers, and unmet medical needs to curate the best of the opportunities and assess the underlying potential of the Myasthenia Gravis market.
Media Contact
Company Name: DelveInsight Business Research LLP
Contact Person: Shruti Thakur
Email: Send Email
Phone: 09650213330
Address:304 S. Jones Blvd #2432
City: Las Vegas
State: NV
Country: United States
Website: https://www.delveinsight.com/market-research