A Visionary Venture Borne of Determination, Jean Jean Auto Sales Offers Vehicles for Every Budget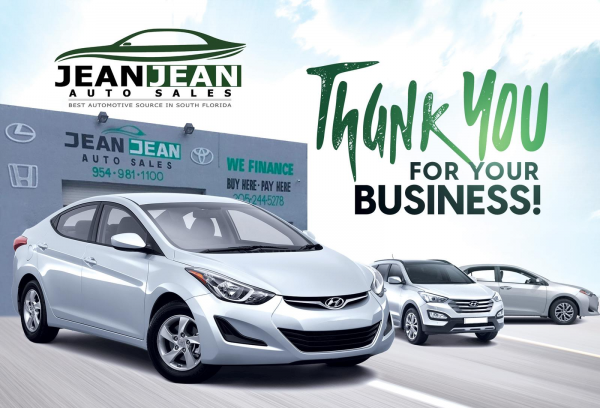 Jean Jean Auto Sales is an ideal destination for vehicles. It has a wide range of vehicles to cater to any need, and an extensive selection of models from all the leading automotive brands. Jean Jean also makes car buying a delightful experience with friendly and experienced staff always eager to help find a vehicle that fits the customer's budget and lifestyle.
The owner of Jean Jean Auto Sales, Jean Corioland stands out as a visionary. Jean's determination and perseverance make him an exceptional leader too. He has worked all types of job and has even been a travel RRT during the pandemic. For the last eight years, he and his family have operated the auto sales business with honesty, determination and above all, trust.
"If you're looking for an easy approach to the car shopping process then Jean Jean is the place for you. We understand that a car is a long-term investment. Therefore, we try to offer the car that's best for you", said Jean, the owner of Jean Jean Auto Sales.
What differentiates Jean Jean from other places is its world-class customer service. For Jean every customer is a family member. Their staff members are not just cooperative but always ready to serve with a smile. With patience and diligence, the staff members will help a customer to select the perfect car at a convenient price. Whether someone is knowledgeable about cars or not, one can trust the people at Jean Jean to guide them.
When asked about Jean Jean, one of their customers said, "It was truly fantastic! I didn't have much to work with and am not very knowledgeable about vehicles. But I didn't feel rushed or talked down to whatsoever".
Jean Jean has something for everyone. It has all the top automotive brands and models under one roof. All one has to do is just call and book a test drive. Jean Jean guarantees a great vehicle and a great price all the time.
For more information, please visit: www.jeanjeanautosales.com or contact via facebook
Media Contact
Company Name: Jean Jean Auto Sales
Contact Person: Jean Corioland
Email: Send Email
Phone: 305-244-5278
State: Florida
Country: United States
Website: http://www.jeanjeanautosales.com/