Innovative Team Launches 10-in-1 SSD hub With Unlimited Storage & commonly used ports
Leading providers of technology products, Acasis, a Super Fast External M.2 SSD fit for Multiple SSD interfaces and sizes which is now selling well on Kickstarter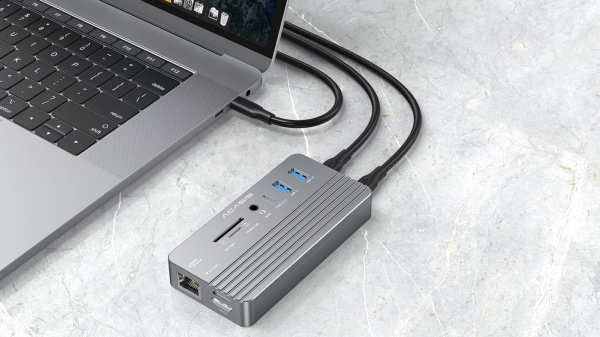 Acasis is staying true to its goal of delivering the best possible experience in the use of digital products to consumers with the upcoming launch of its portable SSD hub. The innovative storage device, which is over 3000% funded now on Kickstarter, is designed to provide varied ports, fast read and write speed of up to 1000Mb/s and infinite amounts of storage for phones, laptops, and a host of other devices.
Technological advancements have led to the emergence of a wide range of solutions to meet the growing and diverse needs of businesses and individuals across the globe. Over the years, several digital products have been produced by a plethora of brands and manufacturers worldwide. Unfortunately, many of the available solutions do not particularly meet the needs of consumers. However, the team at Acasis has been able to change this narrative for over a decade, a claim recently substantiated with the introduction of the Swappable High-Speed SSD Storage and 10-In-1 Hub.
The product is designed as a super-fast external M.2 SSD, serving as a 10-in-1 Multifunctional Hub fit for a wide range of SSD interfaces and sizes. The lightweight all-inclusive storage device is compatible with all devices, with a capacity of up to 8Tb and an anti-overheat design for optimum comfort.
Made with an Aluminum Alloy case, Acasis ensures a low operating temperature of below 131℉ and is built to be rugged enough to survive drops from as high as 10ft. The ports on Acasis include USB 3.0, USB 3.1 Gen2, Type-C 3.1, audio, TF, SD, Gigabit Ethernet, HDMI, USB C PD charging, PC Type-C, and SSD M.2 Enclosure. The Early Bird Price $89 of ACASIS is limited and the crowdfunding will end on June 2 2021.
About Acasis
Acasis was founded in 2010 to provide users with better technology products and a more pleasurable experience in the use of digital products. The company offers consumers peripheral products, including computers, smartphones and mobile storage.
Media Contact
Company Name: Acasis Inc
Contact Person: Irene
Email: Send Email
Country: United States
Website: https://www.kickstarter.com/projects/34992722/acasis-swappable-high-speed-ssd-storage-and-10-in-1-hub?ref=8rj0af&token=10217fb9