Hangzhou more accessible for the differently abled
Hangzhou in East China's Zhejiang province is making public buildings and facilities more accessible to the differently abled as the 2022 Hangzhou Asian Para Games draws nearer.
Barrier-free facilities have already been installed at most of the city's subway stations, shopping malls, overpasses, hospitals, and scenic spots.
During the recent May Day holiday, Shi Jinxiang and Shen Xiaoqin, a couple who use wheelchairs in their daily lives, praised the city's efforts after a visit to the crowded Yan'an Road in downtown Hangzhou China.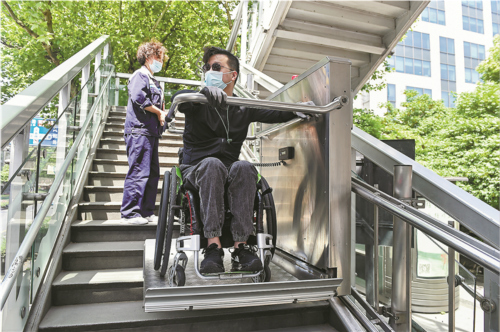 Shi Jinxiang goes down an overbridge on a lift platform designated for people in wheelchairs. [Photo/zjol.com.cn]
"I have not climbed an overbridge since I was seriously injured. Every time I pass by one, I envy those who can walk on it," said Shen.
"As you are enjoying the scenery on a bridge, upstairs in a tower, people are watching you," Shen said, quoting Broken Chapter, a poem by the Chinese contemporary poet Bian Zhilin (1910-2000), to express her excitement.
The couple found that all eight overbridges on Yan'an Road have installed accessible lift platforms. Operators were also assigned to help passengers.
When told that similar facilities have been installed to the cruise ships in the West Lake, Shen told local media outlets that her dream of cruising the West Lake will soon come true.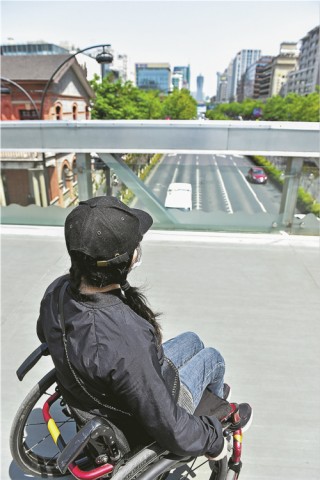 Shen Xiaoqin looks at the Hangzhou skyline from an overbridge on Yan'an Road in Hangzhou. [Photo/zjol.com.cn]
"The city is becoming more accessible to us. Many friends in wheelchairs have told me that Hangzhou is doing a better job than other cities, especially in old residential communities," said Shi.
Statistics show that as of July 2020, Hangzhou has over 220,000 people suffering from disabilities. In 2004, Hangzhou issued guidelines on constructing barrier-free facilities.
The city will formulate a long-term plan to create a barrier-free environment, not only for the sake of Para Games but also for other people in need, according to the Hangzhou Accessible Environment Promotion Association.
Media Contact
Company Name: The Information Office of Hangzhou Municipal Government
Contact Person: Cai Jingwen
Email: Send Email
Phone: 0510-68559077
Country: China
Website: http://www.ehangzhou.gov.cn/