BADTRiPPZ is ready to drop his latest collab single titled "Gifted and Addicted"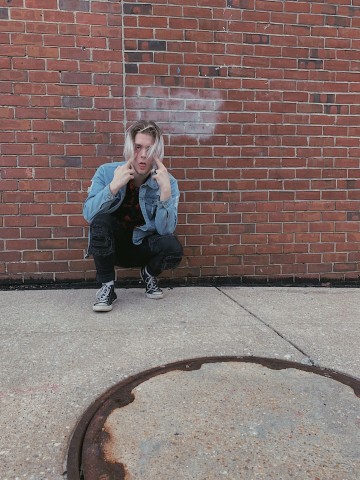 Growing up in a broken home and struggling with school, BADTRiPPZ found his escape in the magic of music. Based in Baltimore, BADTRiPPZ is a talented self-taught musician and rapper that learned to play guitar, as well as a wide range of vocals at a very young age. They say that passion is greater than any other power, and BADTRiPPZ discovered his passion for music in his junior year of high school, 2016. There was no turning back for him after that.
"Changing my name to BADTRiPPZ in the late summer of 2017, I set up a small studio where I let local artists and groups record. After making some beat sales and learning how to network, I eventually joined the rap group $BG and began rapping with Lil Rest and Skitzho. I then used my experience from college, majoring in Music Business, to help sell beats and studio time while also helping produce for and manage the other artists", says BADTRiPPZ telling about his musical journey. BADTRiPPZ decided to focus on his mental health and separated himself from the group $BG in 2019.
After all the small gigs, BADTRiPPZ is now ready to move on to another level by dropping a collab single titled "Gifted and Addicted" on June 24, 2020. And he doesn't stop at this, there is a lot more in store for all the fans of BADTRiPPZ this year. He is also ready to launch his debut album titled "HOLLOWHEAD" by the end of this summer along with three rocking shows planned for July and August.
BADTRiPPZ has grown up in an environment that was surrounded by a large variety of music genres. This gave him more and better understanding of music than other artists his age. He has been a part of many bands in his high school as the lead singer, which is a huge example of his talent and skills. He has always had a liking for hip-hop and rap, but when BADTRiPPZ's uncle introduced him to Lil Wayne in middle school; it changed his life for good. He draws inspiration from great artists like $uicideboy$, Yung Lean, and Bones.
BADTRiPPZ aims at inspiring his fans to make it out of the dark times through his music.
Listen to BADTRiPPZ's songs now on Spotify.com.
Instagram: @badtrippz
Twitter: @badtrippz
Media Contact
Company Name: BADTRiPPZ
Contact Person: Trippz
Email: Send Email
Country: United States
Website: badtrippz.com