US Hollywood International Golden Film Award Reveals Its Competition Winners
Popular movie award, US Hollywood International Golden Film Award, reveals the winners of the 2019 recognitions at Awards Night from movies across the globe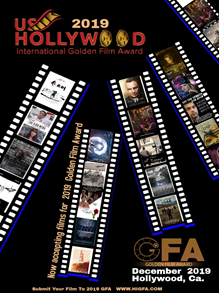 Michael Tse, Founder and Committee Chair of the US Hollywood International Golden Film Award (GFA) proudly announced the winners of the 2019 US Hollywood International Golden Film Award Competitions at the awards night held in Hollywood, California.
The 2019 edition of the yearly awards had over 380 films across several categories from different parts of the world, including the United States, China, Canada, United Kingdom, France, Germany, Hungary, Italy, Russia, South Africa, Spain, Brazil, Hong Kong, Taiwan, South Korea, Belgium, and Brazil. Other countries featured on the list of nominations and works are Norway, Saudi Arabia, Slovakia, Australia, Japan, Romania, Mexico, India, Switzerland, and Netherlands.
The event created a platform for established as well as up and coming independent filmmakers to showcase their works and present the art and craft of cinematic storytelling. The festival was developed to foster meaningful global communication between all cultures through Cinema, exposing international talent, and building bridges of understanding and creativity within the film industry.
The evening celebrated filmmakers from around the world, including outstanding actress Patricia Ha from China, and actor George Cheung from USA, both received the Special Achievement Award.
Winners were chosen from over 380 submissions from 28 countries and regional zones. Below are some the awardee highlights, the complete list is available on https://higfa.com/2019/12/15/winners-of-golden-film-award-2019
Outstanding Categories
GFA Outstanding Up & Comer Actor
Kevin Nelson –- Life''s A Bitch And Then One Kills You –- USA
GFA Outstanding Up & Comer Actress
Tang Xin -– I Will Wait For You -– China
GFA Outstanding Screenplay
I'll Wait For You -– China
GFA Outstanding Cinematography
La Mer –- Spain
Letter to Daniel: The Motion Picture –- USA
Joel Minguet -– Lone Wolves -– Spain
Valeria Swee -– Karmic Connection – Russian Federation
GFA Outstanding Short Film
Commonality –- USA
White Wedding –- China
The Music Of Geim Mountain -– China
2019 GFA Outstanding Producer
Isaih Shaw Maxwell – Street Market/Whatever Happened to Jew-Town -– USA
Sean C. Stephens, Aaron Jackson –- Expulsion -– USA
The Dental Plan -– Canada
Eric Granger –- USA
Fatell –- USA
Clean Land -– China
GFA Special Recognition Award
Yun Ru Chen –- Rising Young Star –- China
Sheng Hao Wu -– Up and Comer Talent –- China
Shi Man Li -– Up and Comer Talent -– China
Jin Ye -– China
I want to Assassinate -– Japan
Mainstage –- USA
Best Categories
Free Slave -– Turkey
Invisible Prisons – Hoyt Richards, Lawrence Nelson -– USA
A New Dawn For America -– USA
Dhanyabad –- Italy
The Momen –- Hungary
Copenhagen Road –- Canada
Kata Domján -– The moment –- Hungary
Arthur Blader –- American Mirror: Intimations Of Immortality –- USA
Billy Chengary -– Another Yesterday -– USA
He ShengMing – White Wedding -– China
Diana Cofini –- Copenhagen Road -– Canada
Amy Leigh McCorkie – Letter to Daniel: The Motion Picture – USA
Lone Wloves –- Spain
Patricia Ha –- Hong Kong
George Cheung –- USA
The award ceremony was organized by the Golden Film Award Committee and coordinated by Hope Productions, IFSM Committee, with support from AICM, Dragon Disciple Productions, Hope, BSEG, IFSM Fashion TV, HIFEX, DHPR, KCS Rossana Culture & Education Society, Duchente, WCETV, 8sian Media, TWN, Parris Harris, and Movie Trend.
Media Contact
Company Name: Golden Film Award
Contact Person: Jean Ann
Email: Send Email
Phone: 1.888.230.4376
Country: United States
Website: https://www.higfa.com/