Aftermath of Hurricane Dorian Needs Food Relief, Magson Foods USA Answers The Call

Magson Foods USA partners with The Elks of Delray Beach to donate 1000 pounds of beans and rice to the Bahamas Relief Effort
West Palm Beach, FL – 11 September, 2019 – Magson Foods USA donates 1000 pounds of rice and beans to the Bahamas Relief effort in partnership with The Elks of Delray Beach. The aftermath of Hurricane Dorian has destroyed the Caribbean Islands and left thousands of people without food, shelter or power.
According to the International Federation of Red Cross and Red Crescent Societies (IFRC), more than 13,000 houses (45 percent of all homes) had been severely damaged or destroyed by Hurricane Dorian. Over 62,000 people will need assistance with food and clean drinking water, so donations are badly needed to help the people affected by the storm.
"We hope our donation of 1000 pounds of rice and beans will provide much needed relief to the people of the Bahamas, so they can recover from the devastation left by Hurricane Dorian," said Mr. Wilson-Steve Antoine, CEO of Magson Foods. "Our partnership with The Elks of Delray Beach provides us the infrastructure to get Bahamians the supplies they need to help them through this difficult time."
The Bahamas will continue to need the essentials of food, water, shelter and power until they can rebuild the islands. Anyone who wishes to donate supplies can contact The Elks of Delray.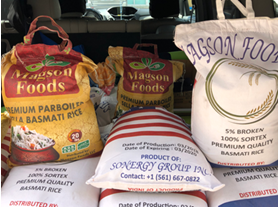 Magson Foods USA, LLC is an expert in agro-food and frozen meat products with best exporting service in this domain. Currently, Magson Foods USA delivers to over 300 supermarkets throughout Florida.
If you would like more information about this topic, please call Jack Foley at +1(561)717-0630 or email at [email protected]
Media Contact
Company Name: Magson Foods, LLC
Contact Person: Jack Foley
Email: Send Email
Phone: +1(561)717-0630
Country: United States
Website: https://www.magsonfoodsusa.com