Sugam: Crafting Happy Communities Through Real Estate Excellence
Tracing its origins to the ever-vibrant City of Joy, where bustling streets and narrow lanes tell tales of charm and tradition, Sugam has been a beacon of real estate excellence for nearly four decades. With a remarkable track record of completing over 25 projects and fostering a community of 7000+ satisfied families, Sugam's legacy is deeply entrenched in the heart of Kolkata.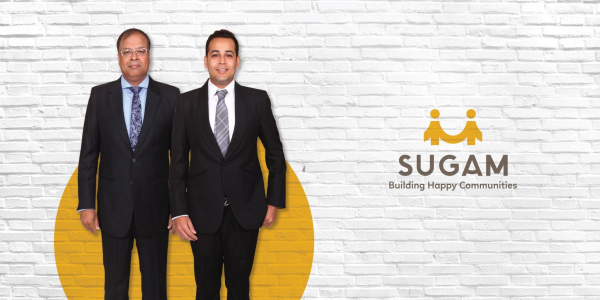 Over time, as Kolkata underwent a symphony of change and progress, the need for a blend of contemporary living, while preserving the city's essence, grew evident. In this transformative period, Sugam, founded by Mr. Ashok Saraf and currently steered by its Managing Director, Mr. Suhel Saraf, positioned itself as a beacon for those looking to realize their dream homes. With the city's aspirations evolving, Sugam captured the essence of modern living desires and embarked on a mission of 'Building Happy Communities'.
Their offerings, such as gated communities, brought together the best of modern amenities and security, all the while honoring the rich tapestry of Kolkata's heritage through meticulous design and community involvement.
Each project by Sugam stands as a testament to their commitment to architectural excellence and design innovation. Their high-rise towers, representative of Kolkata's urban modernity, are a blend of aesthetics and functionality, capturing attention with sleek designs and panoramic city views.
But for Sugam, the journey doesn't end with constructing marvels. They emphasize community and connectivity, crafting spaces where residents form deep connections with nature and neighbours. Evenings in Sugam communities are about warm conversations, scenic walks, and creating memories. Their developments are meticulously planned, balancing urban living with natural spaces, recreational areas, and more, ensuring residents experience a holistic life.
Their portfolio boasts iconic ventures like:
HABITAT off EM Bypass, merging urban convenience with serene settings.MORYA, off New Alipore, symbolizing a fusion of modernity and tradition. HUNGERFORD HOUSE on Hungerford Street, encapsulating the aristocratic spirit of Kolkata.The upcoming NIAVARA, set to redefine luxury living, conceptualized by globally renowned architect Ricardo Bofill.Moreover, with projects like SUGAM PARK, SUGAM SUDHIR, SUGAM SERENITY, SUGAM SABUJ, and SUGAM PRAKRITI, Sugam proves its versatile presence, catering to various budget segments. Additionally, URBAN LAKES near Konnagar railway station promises the ideal gated community experience, accentuated by its verdant surroundings.
Beyond these landmarks, Sugam is also fervently working on developing a staggering 11 million sq.ft. The future is ripe with promise for the brand, given its upcoming ventures at key locations such as Joka, Rajarhat, New Town, Sector 5, and Garia.
In essence, as the city continues to write its growth story, Sugam remains at its heart, constantly redefining the skyline and the very definition of community living. Their vision is unwavering: to turn dreams into tangible realities and curate spaces that inspire life's best moments."
Visit https://sugamhomes.com/projects for more information.
Media Contact
Company Name: Sugam
Contact Person: Media Relations
Email: Send Email
City: Kolkata
Country: India
Website: https://sugamhomes.com/