Next-gen NFT Project, Nova-Dox Launches New NFT Staking Collection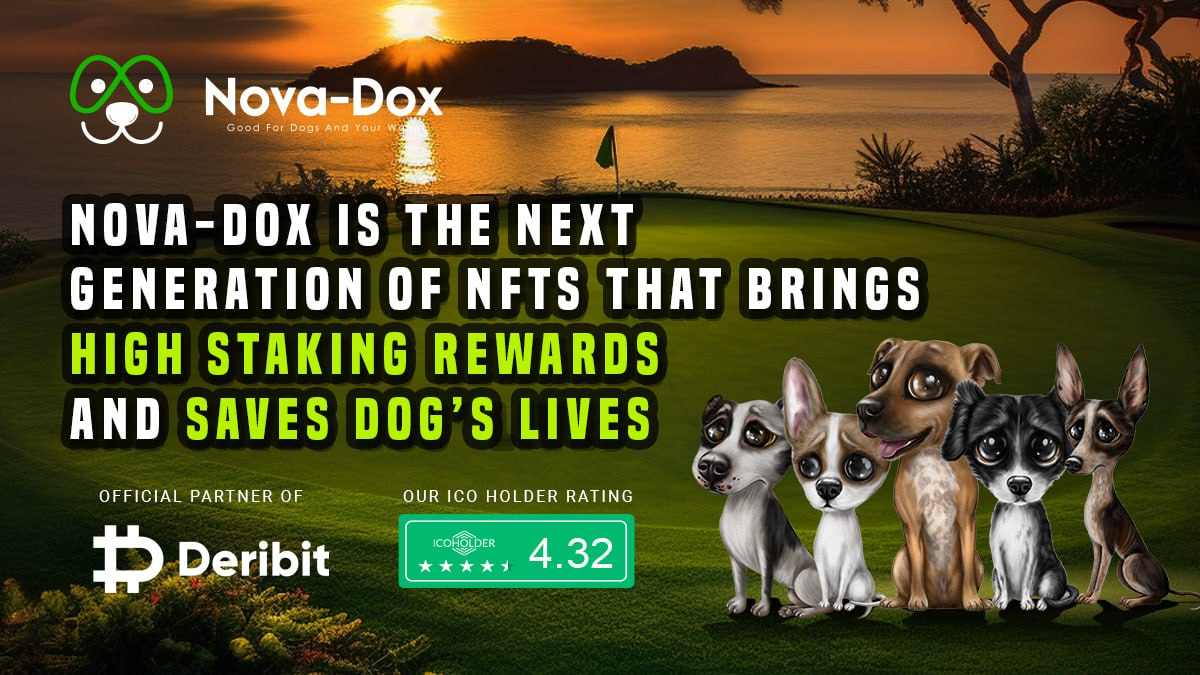 Nova-Dox, a next-generation NFT project that leverages in-house-backed and tested Ethereum trading software to generate rewards, has launched a new NFT staking collection. Aimed at simplifying the project's core offering, this product, although depending on staking periods, will provide users with over 50% staking rewards. Nova-Dox is hedged against the US Dollar, hence meaning that profits will be paid in USDT (Tether) stablecoin.
The new NFT staking collection is 444 uniquely designed and feature-replete NFTs that will increase staking rewards. According to the team, NFT owners can earn as much as 55% on rewards if they opt for the 24-month staking option.
The Nova-Dox Project
Nova-Dox is an NFT-based project where value increases are not dependent on core determinants like rarity and popularity. But an advanced trading software. The software has been tested and proven to be capable of increasing NFT value, the foremost case being the 2022 bear run. It induced a notable rise in profits even while the underlying asset was scraping a 65% decrease in value.
Nova-Dox eliminates market value determinants and introduces a newfangled concept, advanced software. Developed by experts in an extensive 8-year period, this new and advanced trading software is exclusively utilized in the NFT space to drive value increase bereft of popularity and peculiarity.
Nova-Dox prioritizes security hence the integration of advanced security features. Besides that, the trading software is super reliable and secure. The 2022 performance test is proof of its reliability and a testament to the software's capacity to handle an 80% market crash. And subsequently a 100% market crash.
Nova-Dox partnered with Deribit exchange, the largest crypto options exchange in the world. This collaboration will see the next-gen NFT project receive an admin-controlled account. This means that withdrawals would have to be manually verified by Deribit. This setup guarantees the security of funds and is remarkably safer than trading individually. Additionally, Nova-Dox has a single withdrawal address connected to a smart contract. And this ensures a seamless third-party audit for money distribution.
The Staking Collection and Reward
Nova-Dox's staking collection comprises 444 staking NFTs with rewards reaching and exceeding 55%. If a user buys one of the NFT collections for 1.1 ETH when the value of Ether is $1800. The value of the NFT is calculated as 1.1 X $1800 which equals $1980. After a 24-month staking period, the user receives 3096 USDT.
Unprecedentedly, Nova-Dox covers transaction fees, dispelling hidden charges. And after the entire staking period, the user receives both the rewards and absolute ownership of the previously staked NFTs. The price of what a token holder can get for this collectible after the staking period is an additional bonus on top of the staking rewards.
The Nova-Dox staking NFTs are explicitly a blend of professional pictures of Tenerife—the location of the first dog paradise. It also contains a vivid illustration of a dog (Jimmy) from an existing local shelter. Nova-Dox aims to increase and foster a more connected relationship between dogs and token holders.
The Nova-Dox Team
The Nova-Dox team comprises knowledgeable, experienced developers and experts led by George Vesters—a civil engineer with over a decade of experience as a project manager and statistician in flood defense. Nelle Jan van Veen (CTO and civil engineer), Asad Zeeshan (CMO) and start-up specialists, respectively, are also part of the team.
About Nova-Dox
Nova-Dox is a next-generation NFT project where an NFT price increase is dependent on trading software and not on market factors. This NFT project aims to offer NFT holders amazing rewards, exceeding 50%. Through the staking collection—a series of 444 NFTs—Nova-Dox will offer staking rewards and absolute ownership of NFTs.
Social Contact
Twitter: https://twitter.com/nova_dox
Telegram: https://t.me/nova_dox_nft
LinkedIn: https://www.linkedin.com/company/nova-dox/
OpenSea: https://opensea.io/collection/nova-dox-staking
Looksrare: https://looksrare.org/collections/0xbEEB806A64D33a59B3c48F53e386710986f2be3e?queryID=dee3e9e1a0949506b16263d2ef15df56
Disclaimer: This press release may contain forward-looking statements. Forward-looking statements describe future expectations, plans, results, or strategies (including product offerings, regulatory plans and business plans) and may change without notice. You are cautioned that such statements are subject to a multitude of risks and uncertainties that could cause future circumstances, events, or results to differ materially from those projected in the forward-looking statements, including the risks that actual results may differ materially from those projected in the forward-looking statements.
Media Contact
Company Name: Nova-Dox
Contact Person: Asad Zeeshan, CMO
Email: Send Email
Country: Saint Vincent and the Grenadines
Website: https://www.nova-dox.com/