Former Cop Kayahan Gunes Achieving New Heights In Social Media Business
Kayahan Gunes transitioned his career to follow his passion; and switched from being a cop to owning a renowned Australian coffee shop and becoming a social media star.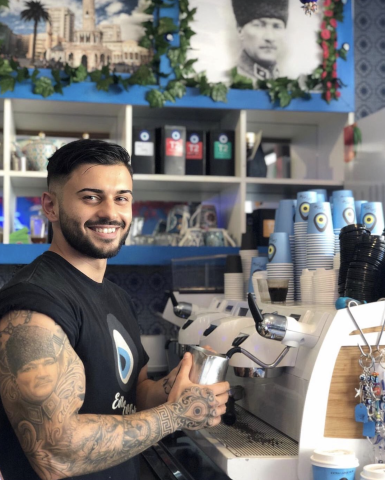 Local Wollongong resident Kayahan Curtis Gunes, the founder of Evil Eye Cafe, is passionate about taking chances and attaining his passions. Kayahan Gunes earned a Bachelor of Business in 2017 from the University of Wollongong and began aspiring to open his business.
He chose to follow in his mother's footsteps and enlist in the police force. He started his career as a police officer in St. George's General Duties immediately after finishing training. He practiced in Goulburn for eight months, only visiting Wollongong on the weekends. He nevertheless frequently felt a spark of something exciting and passionate missing from his daily routine.
To fulfill his vision of bringing a flavor of the Mediterranean to Wollongong, Kayahan uniquely designed a coffee café. Following his ambition in 2020 in Fairy Meadows, he started the Evil Eye Café based on the Turkish pendant, said to guard against ominous curses.
Additionally, he created an exquisite menu of drinks and desserts, which featured a variety of Turkish and Mediterranean-inspired foods in addition to traditional Australian favorites. Within its first year, the café gained popularity across Australia and was recognized as a finalist for the Illawarra Business Awards. The restaurant eventually began offering a meal with Ukrainian influences and gave money to Ukrainian war victims as it became popular.
Kayahan Gunes is as happy with the increased growth of the brand as he says; "Evil Eye Cafe is only growing, and we should see many more stores within the next few years."
During the COVID-19 lockdown in 2021, the second branch of Evil Eye Cafe opened in Wollongong Harbour, and it was exactly as successful as the former one. Then, to devote all of his time to expanding the company, Kayahan Gunes decided to retire from his position as a police officer. He also began to build his social media profile to deliver his followers with behind-the-scenes exposure to his café.
Kayahan Gunes, the CEO of the cafe says: "I have people trying to pretend to be me online, and these people have notified me as they identified me through my TikTok videos."
Kayahan has a diverse social media community of 45k followers and 532k likes on TikTok, and 14.3k followers on Instagram.
Become a part of his community on TikTok @kayahan.4 and Instagram @kayahangunes4.
About Evil Eye Cafe
Kayhan and Steve Gunes established the Mediterranean-style cafe known as Evil Eye Cafe. The café, based in Wollongong, New South Wales, is now franchising throughout Australia. Due to his marketing efforts on Tik Tok and Instagram, Kayahan Gunes has become well-known in his region.
Learn more at: www.evileyecafe.com.au
Media Contact
Company Name: Evil Eye Cafe
Contact Person: Kayahan Gunes
Email: Send Email
City: Wollongong
State: New South Wales
Country: Australia
Website: www.evileyecafe.com.au