Award-Winning Author, Mohana Gill, Offers an Inspired and Practical Approach to Cooking with Edible Flowers in Cookbook Flowerlicious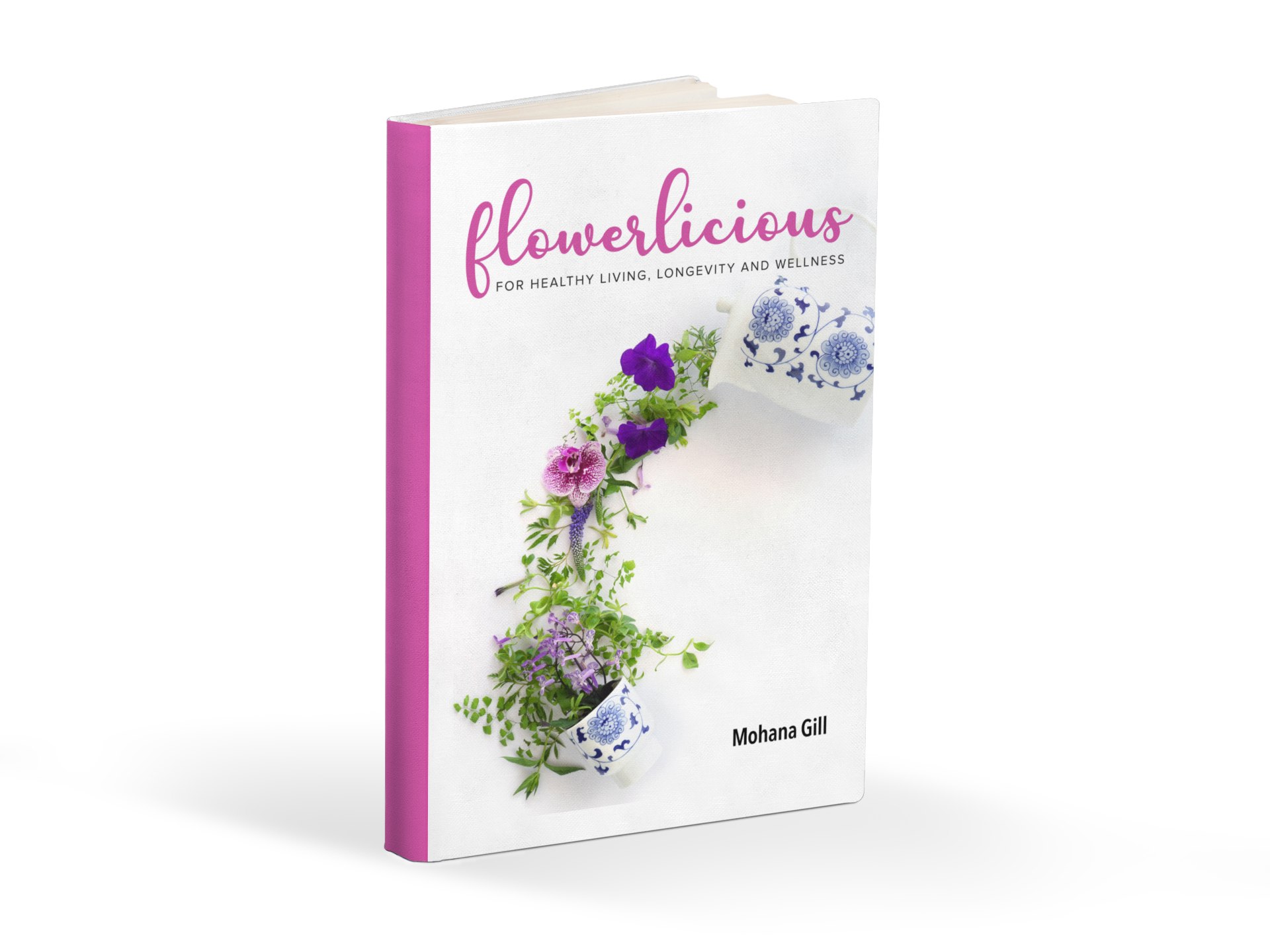 Flowerlicious contains over 60 recipes that showcase the versatility of flowers and demonstrate the ease of incorporating blossoms into everyday meals and specialty dishes.
Flowerlicious: For Healthy Living, Longevity and Wellness is a one-of-a-kind cookbook that captures the beauty, essence, and uses of edible flowers commonly available in South-East Asia. The book invites readers on a vibrant culinary journey of exciting flavors and innovative ingredient pairings, explaining how to incorporate flowers into easy, everyday dishes from a variety of cuisines around the world.
"I have always believed and lived by the mantra of "healthy living, longevity and wellness" and hope to inspire more people to do the same. Flowerlicious captures my passion for flowers and the beautiful fresh blooms in the colors of nature," says author, Mohana Gill. An award-winning vegetarian cookbook author, Gill advocates for healthy living and nutritious eating in a sustainable manner, with an ultimate goal of enhancing the physical and spiritual welfare of future generations. "My books are the legacy that I wish to bequeath to the world… long after I am gone, I hope that my books will continue to spark joy and inspiration to each person who picks them up."
Flowerlicious marks the completion of a troika of cookbooks in Gill's "for healthy living, longevity and wellness" series that pays homage to the abundance of nature. The first book, Fruitastic!, extolls the virtues of fresh fruits while the second, Vegemania!, celebrates all things plant-based. "With Flowerlicious, I feel that I have come full circle as an author, cook, and nature lover. It brings me right to where I started, where I have my roots," says Gill.
Gill's rich experience in a multitude of cuisines is on full display in Flowerlicious, with recipes that run the gamut from Malaysian to Mexican, French to fusion, and also draw upon her memories of growing up in Myanmar. The recipes are also complimented by exceptional photographs that bring each dish to life and highlight the versatility and health benefits of edible flowers as well.
The book has been endorsed by some of the most well-renowned experts and industry professionals around the world. Marlena Spieler, author of the award-winning A Taste of Naples: Neapolitan Culture, Cuisine and Cooking writes, "It is a lyrical pleasure that extends the basic sustenance of simply eating, regardless of how delicious it might be." In addition, Mridula Baljekar, multiple-award-winner of the Gourmand World Cookbook Awards writes, "Mohana has used skill, flair and imagination to the fullest extent in her latest book. She is definitely an author to be reckoned with."
Flowerlicious is available to buy from MPH Online, Malaysia's Number 1 Bookshop. Readers who are looking to expand their palate and reap the physical, emotional and spiritual benefits of cooking with edible flowers are encouraged to purchase their copy today: https://mphonline.com/products/flowerlicious-for-healthy-living-longevity-and-wellness.
About the Author, Mohana Gill
Mohana Gill was born in Burma (now Myanmar). She holds a Bachelor's degree from the University of Rangoon and an MBA from the University of Toronto. She was on the staff of the University of Rangoon till the military overthrew the Government in 1963, wherein she left for Malaysia. In 1965, she was an economics lecturer at the University of Malaya. Mohana retired when her first child was born, to concentrate her efforts on the upbringing of her children. Her love for travel, cooking and entertaining earned her the affectionate nickname of Travelling Gourmet, and she has graced the kitchens of many a friend and relative in far reaching and exotic locations worldwide. Mohana has a passion for experimental cooking and loves mixing the old with the new. She has been serving inventive recipes for over four decades, and many of them are captured in her multi-award-winning cookbooks. To learn more, please visit: https://www.facebook.com/flowerliciousbymohanagill/
Connect with Mohana Gill on social media:
Facebook: https://www.facebook.com/flowerliciousbymohanagill/
Instagram: https://www.instagram.com/flowerliciousbymohanagill/
Media Contact
Company Name: Author News Network
Contact Person: Media Relations
Email: Send Email
Country: United States
Website: authornewsnetwork.com