Daniel Natural is transforming precious artwork into beautiful watercolor tattoos
Daniel Natural professionally implements watercolor tattooing techniques according to the customers' innovative ideas.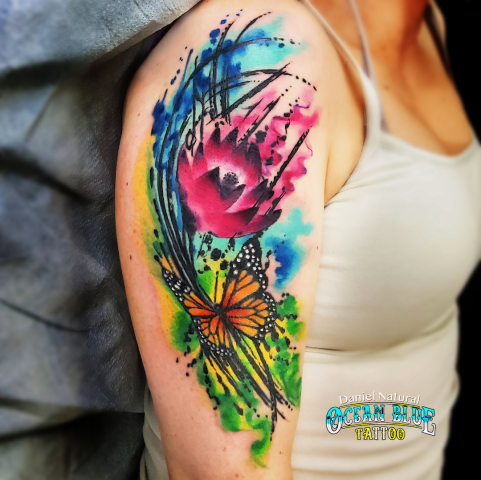 Daniel Natural is a Minnesota-based tattoo artist who got his start doing fine art paintings, but is now known for his beautiful freestyle watercolor tattoos. Despite having a wide range of tattoo techniques in his portfolio, he currently focuses primarily on his watercolor-style tattoos. Art, like the artists who create it, comes in many forms. Some people express their creativity through sculptures, some put it on canvas, and in the case of a tattoo, the art is applied to a person's skin. When a person comes to Daniel with their idea for a tattoo, whether it be something fun or something that is deeply sentimental, he approaches it the same way as when a person is commissioning a piece of fine art from him. The only difference is that with a tattoo the art will be on their skin as opposed to hanging on their wall. Art has been a defining purpose in Daniel's life, and when a person commissions a piece from him, he takes that very personally. The finished work must reflect the vision that they have.
The thing Daniel loves most about doing a watercolor tattoo is that it really allows him to use the freedom of expression that comes with being an artist. When working on a watercolor tattoo the customer doesn't have to be confined to the boundaries or outlines that they find in a regular tattoo. Daniel uses his artistic ability to let the watercolor flow freely from the original design. It sounds complicated, but it really comes naturally to him. He can envision where the lines need to flow to have the maximum effect on the overall design. It is that ability to express his creativity that makes watercolor one of his favorite tattoo styles. Daniel developed a technique to transfer watercolor patterns from paper to skin because of his passion for the watercolor aesthetic. His distinctive method ensures that the vibrant colors last for a long time, making his work distinct from other artists.
To arrange a consultation to have Daniel's work on a customized design right now, go to https://www.oceanbluetattoo.com and complete the contact form.
Follow his Instagram page of Watercolor Tattoo at https://www.instagram.com/daniel_natural
About Ocean Blue Tattoo & Art Studio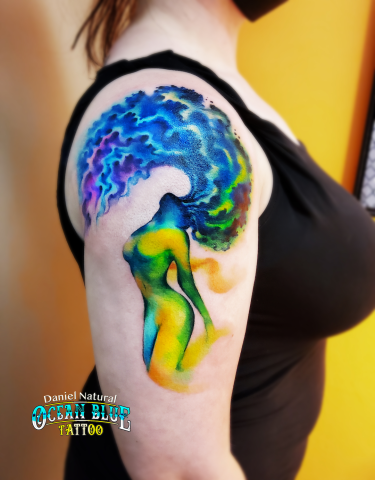 The Ocean Blue Tattoo Studio offers a wide range of Watercolor, Dotworks, black and grey, anime, and 3-dimensional tattoos. Their team of artists is exceptional at taking into account the suggestions of their clients and modifying a style to make it unique. They are among the finest tattoo parlors in Minneapolis. The Ocean Blue Tattoo studio offers an elegant and hygienic working atmosphere. Daniel Natural states the mission of his brand: "Our goal is to inspire others and offer art that authentically reflects your everyday experience. Our studio has the necessary permits." The studio welcomes unique tattoo designs and encourages "Unique Tattoo Ideas" from clients, because the tattoo artists want to execute each piece uniquely and customize each tattoo for each customer following their personal preferences. The Ocean Blue Tattoo Studio in Bloomington, Minnesota is just a few miles south of just the Mall of America.
Follow Daniel Natural and Ocean blue tattoo on social media:
https://www.instagram.com/daniel_natural
https://www.instagram.com/oceanbluetattoo
Media Contact
Company Name: Art Express
Contact Person: Matthew Manson
Email: Send Email
City: Minneapolis
State: Minnesota
Country: United States
Website: fineartamerica.com