New Movie "Gutter" (2022) is a Sweeping Epic Emotion-themed Movie, Release Date January 18, 2022
"Gutter" which is set to hit theaters and video streaming platforms such as TUBI and Prime Video on January 18, 2022 is a movie about a heroin drug addict who finds a baby in the gutter and raises him as her own
The intriguing movie which is in its post-production stage depicts the struggles of a woman trying to raise a child while fighting her demons.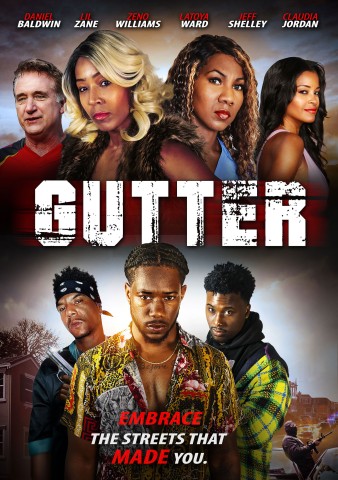 LaToya Ward CEO of Toy Vision Entertainment and Joseph Elmore CEO of Elmore Vision Entertainment are thrilled to announce the release of "Gutter" (2022).
"Gutter" (2022) tells the emotional story of a heroin addict, Jewel, played by LaToya Ward who finds a baby in a gutter. Moved with compassion and conflicting emotions experienced by most teenagers, Jewel raised the child which was characterized by so much turmoil and love at the same time. The task was even more daunting as Jewel constantly battled her own demons from within.
"Gutter" (2022) is a compelling story which many would be able to relate to as it exemplifies a wide variety of characters and disposition in society today. Filmed in Houston, Texas, due to the intense story, there are already plans for a Sequel and the Prequel, Platinum, was just filmed in Houston in 2021 as well.
"Gutter" (2022) features well known celebrities and rising stars such as LaToya Ward, Daniel Baldwin, Zino Williams, Lil Zane, Claudia Jordan, and Jeff Shelly. Gutter was written and directed by Joseph Elmore of Elmore Vision Entertainment and Executive Produced by LaToya Ward of Toy Vision Entertainment.
Toy Vision Entertainment and Elmore Vision Entertainment have teamed up and have several other movies slated for production. In the months to come, we will not be seeing enough of filmmaker, actress, writer, producer and influencer movie star, LaToya Ward, who has a social media presence of over 2 million followers.
Toy Vision Entertainment tells emotional and compelling stories meant to inspire and uplift while providing an outlet to escape and relate to the magic that transpires on the screen. The group writes, produces, and works with investors, artists, and creators who would like a piece of the movie industry pie. They also provide production services to get movies and TV shows produced at high quality for distribution around the world.
The movie premiere of "Gutter" (2022) will be held in Houston, Texas on January 15, 2022. "Gutter" (2022) is set to have a theatrical release in select theaters in the US and is currently seeking International Distribution. The official trailer is on IMDB.com and GutterTheMovie.com.
About LaToya Ward
LaToya Ward, a versatile actress and filmmaker originally from Texas now residing in Los Angeles, is recognized for her Win as Best Actress in a Feature Film at the London International Film Festival. LaToya has auditioned in front of media moguls such as Tyler Perry and selected as a Winner in the TJMS Talent Search for a walk on role on Tyler Perry's, If Loving You Is Wrong! LaToya also won Best Actress in a TV Sitcom and was a Finalist in "Who Wants to be a Soap Star Live" Competition!
LaToya is an emerging filmmaker, writing and producing films and media content which has premiered at film festivals around the world. Through her company, Toy Vision Entertainment, she has created a lineup of cutting edge stories that have entertained and inspired viewers of all ages.
Booking LaToya Ward can be the biggest and brightest decision made for your brand and/or company. With nearly half a million global followers, LaToya's influence spans from fitness and fashion to inspiration and commitment.
Movie Details:
Title: Gutter (2022)
Tagline: The streets made him
Logline: A drug addict finds a baby in the gutter and raises him as her own.
Synopsis: After a lifetime of poverty, GUTTER realizes that the only way to survive in this world is by embracing the drug infested environment around him. With the help of Teddy B, Funnyman, and Teiry, his child hood crush, Gutter quickly becomes the hottest drug dealer in the streets and a force of nature to be reckoned with. But increased pressure from the Italian mob, wars with a dangerous group of disgruntled college kids and his own promiscuous, drug addict mother serve to fuel his timely exit from the dope game and his entrance into the pimp game.
For more information about LaToya Ward and the release of "Gutter", the links below would be useful.
Gutter Official website: https://www.gutterthemovie.com/
"Gutter" on IMDB: https://www.imdb.com/title/tt14200420/?ref_=fn_al_tt_1
LaToya's Official website: https://www.latoyaward.com
LaToya's Additional website: http://cylence.media/latoyaward/
LaToya Ward's Filmography: http://www.imdb.me/latoyaward
Connect with LaToya Ward via any of the social media platforms below.
Instagram: @latoyaward
Facebook: LaToya Ward Official
Media Contact
Company Name: Toy Vision Entertainment
Contact Person: LaToya Ward
Email: Send Email
Phone: 323-977-8693
Country: United States
Website: https://www.instagram.com/toyvisionent