Who are Exposed to Coronavirus? Magic Ice Cube is giving minorities access to affordable PPEs
"Where did you get your masks?" At the beginning of the outbreak, Rudy Rong and Zhebing Lin met an African American staff at the gas station. This African American young staff, Allen, is in his early twenties. He worked 8 hours a day without wearing masks. According to Allen, he tried every way to buy costumes and searched online for sites to get tested, but he did not find anything helpful. Ice and Rudy gave him all the masks in their car, which were only a drop in the ocean for the massive American people who need to be protected and tested.
The gas station staff was not an exception. In the United States, there are still a large number of citizens who can't purchase medical supplies and don't have access to testing. 85% of these people are minorities and low-income groups.
According to the data, as a minority, African-Americans, whether infected or dead, are "the top," accounting for 52% and 58% of the total number of infections and deaths, respectively. The death rate of African-Americans infected with the virus was 2.4 times higher than that of Caucasians. That's because many African Americans live in crowded houses with inadequate medical facilities. They typically can't afford protective equipment and nucleic acid testing. Are people without money deserve to be infected and die of illness? Don't their lives matter as much?
Zhebing Lin, the founder of MAGIC ICE CUBE. COM, made a significant comment on the epidemic and human rights. "Human rights are not the rights of the privileged. Human rights are the rights and freedoms of everyone. To have the ability to survive, to have access to medical supplies, and to get the most basic protection is the real human rights that Americans should advocate." As Martin Luther King said in his 1963 speech,"I have a dream that one day this nation will rise and live out the true meaning of its creed: 'We hold these truths to be self-evident, that all men are created equal.'"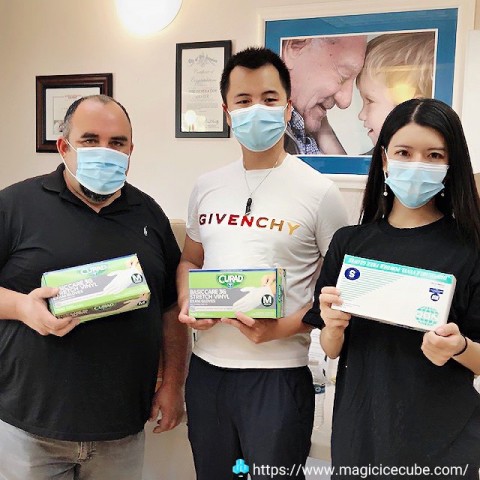 In Zhebing's opinion, the protection of human rights was also a part of the MAGIC ICE CUBE's core value. MIC, founded by Zhebing Lin, Rudy Rong, and Fan Zhang, is a B2B Personal Protective Equipments Trading platform for global corporate users to support people with immediate needs. Zhebing Lin and Rudy Rong have been friends for eight years, and both graduated from the University of Southern California. They hope to meet the demands of consumers and improve the quality of their lives by providing them with MIC; a platform gives them access to affordable anti-virus care regardless of their race, income, educational background, etc.
Many people protested on the streets to fight for equality, justice, and human rights for everyone. However, not many have cared to protect their rights of not being infected and dead. A point in The Economist is meaningful, "The cycle of injustice, protest, riot, and the conservative reaction has come round many times since 1968. So many, that it would be easy to conclude that police violence and racial inequality in America are just too hard a problem to fix. Yet such pessimism is unwarranted. It is also counter-productive." Only by uniting to change all this can we make Floyd's death worthwhile. The more our country is united, the better it can strive to ensure that all its citizens can live by its founding ideals.
Rudy and Zhebing Lin are using their methods to make the United States better. MAGIC ICE CUBE cooperated with CVS and Victoria's Secret to provide them with protection equipment. Besides the corporate clients, MIC also helps non-profits in the same community. On June 4, Rudy and Zhebing Lin drove to donate gloves to a charity organization — One Generation to assist the elderly in desperate needs. They shared their views on charity with the head of the organization and gained affirmation. It's hoped that their actions will contribute to the giving all American people affordable virus protection equipment.
Nowadays, "All Lives Matter" have become a global theme since more and more people from different countries gathering onto the streets to support it. At this crucial moment, MAGIC ICE CUBE, continues to help as many people as they can, building a platform supports all Americans with the protections they need.
Media Contact
Company Name: MAGIC ICE CUBE LLC
Contact Person: YURONG WANG
Email: Send Email
Phone: +12134007851
Country: United States
Website: www.magicicecube.com