Comparable to N95, this Nano Face Mask with Pores Smaller than Viruses are Now Available for Bulk Order Only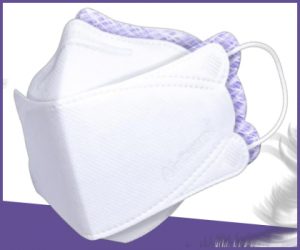 Although N95 respirators have become the face mask of choice for use during the COVID-19 pandemic, they are almost impossible to find. The Air QUEEN Nano Mask, also known as TechnoWeb Surgical Mask, which is an FDA-cleared surgical mask, is comprised of Nano Filters manufactured by using a unique spinning blow process for nanofiber, which creates pores smaller than viruses, offering better protection than some leading N95 respirators.
A recent sodium chloride (NaCl) aerosol test performed on 20 Air QUEEN Nano Masks at Nelson Laboratories, LLC., located in Salt Lake City, UT USA, demonstrated particulate filter penetration protection and efficiency levels exceeding the minimum levels for N95 respirators. Our affiliates have filed a request with the FDA for authorization under an Emergency Use Authorization to market the Air QUEEN Nano Mask for use as a respirator comparable to N95 respirators used for medical purposes.
The Air QUEEN Nano Mask has many firsts to its credit. It's lighter than a typical sheet of paper and can be worn comfortably all day long without feeling suffocated, fogging the wearer's glasses, collecting moisture inside the veil, or toxic breath.
The Air QUEEN Nano Mask is available for bulk purchase and distribution to the US Government, Hospital Systems, Healthcare Supply Channels, State and Local Governments, and Public and Private Organizations, ready to ship from the manufacturer's warehouse in Korea. There is no deposit requirement for qualifed buyers—payment after delivery and inspection on the first order
"The question is, 'how much is your life worth?' The nano masks are superior in every way and are the safest way to protect the life of our citizens. There are no competitors when it comes to value, cost, features, comfort, and protection at the highest levels. With our competitors, you gain nothing but less security, higher price, weight, expense, and discomfort. This nano mask is lighter than a sheet of paper," says a spokesperson for The Heed Group, Inc
The Heed Group, Inc. is a Veteran-run Organization, run by a Service-connected Disabled Veteran, and is also a Black Minority Business. The Group holds rights for distributing the Air QUEEN Nano Mask to the US and Canada through our Provider, PV Brands USA.
For more information, please visit: http://theheedgroupinc.com/
Media Contact
Company Name: The Heed Group Inc
Contact Person: Patrick E. Barber Sr
Email: Send Email
Phone: 8779388853
Country: United States
Website: theheedgroupinc.com/