Private Lenders1 LLC, Introduces Fix and Flip Loan Project to Borrowers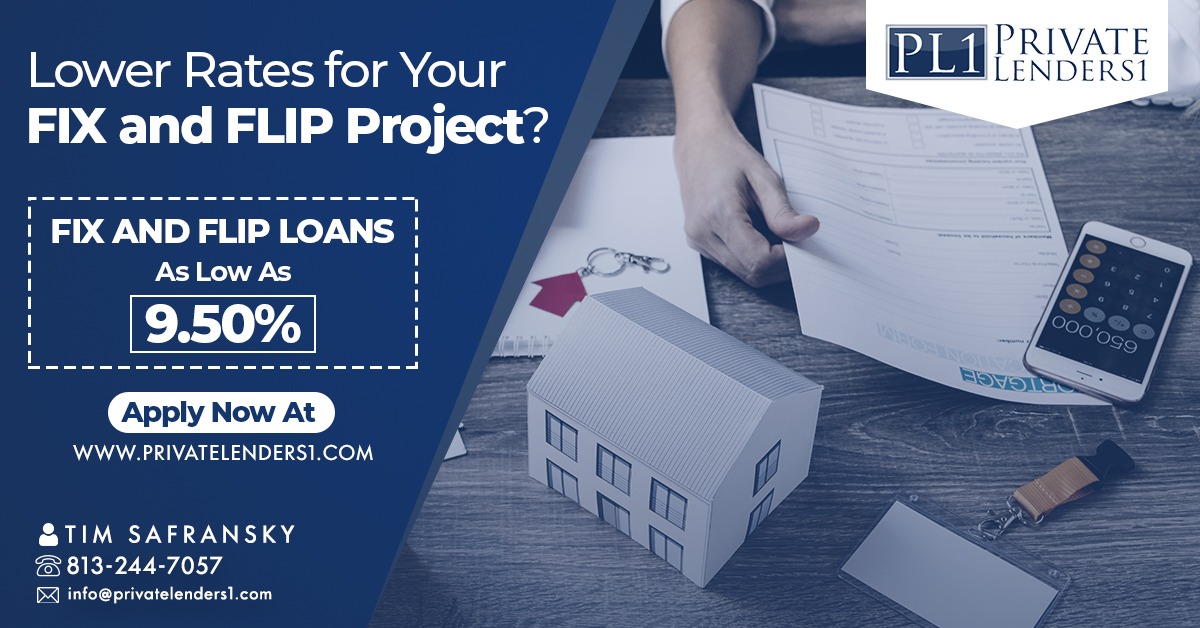 Private Lenders1 LLC announces the introduction of its Fix and Flip Loan Funding to borrowers who need a loan for their buy, fix and sell real estate investment business. Private Lenders1, LLC is focused on representing each borrower with its vetted private lenders. These lenders put the borrowers at heart; hence all loans given to borrowers are easy to collect and are designed for the growth of the borrowers. With that, Private Lenders1 ensures it customizes every loan request to each client's needs. Borrowers can also use the rehab loan giving by Private Lenders1 for home improvement or to acquire a real estate property.
To make it simple for each borrower, the company has designed seamless modalities which ensure fast processing of loan request. Simply put, with Fix and Flip Loan Project, borrowers can access a hard money lender loan deal and close it in 5 days. The second option is longer than 5 days but faster than 15 days as well. This means this second loan option only closes in 15 business days or less.
Furthermore, to make getting loans for borrowers, Private Lender1 LLC also designs another unique option for the borrowers. This is to afford borrowers and lenders the necessary time to study the market and make the best financial decision they deem fit. It is also focused on the best rate of 9.5% and maximum loan dollars based on 65% ARV. By visiting https://privatelenders1.com, the official website of Private Lenders1, each borrower will be able to access Fix and Flip Lending Program, which affords them opportunities to the following plans and advantages:
Property Types: Non-owner Occupied 1-4 Family Residential Properties; Condos; Townhomes
Loan Amount: $200,000 – $2,500,000
Rates: 9.5% Interest-Only and Up
Loan To Values Purchase: Up to 75% LTC; Up to 60% As-Is + 100% of Renovation Costs; Not to Exceed 65% of the ARV
Points: 3.5% Total
Prepayment Penalties: None
Minimum Credit Score: 620
"At Private Lenders1, LLC, we represent every borrower with professional and seasoned private lenders who have been well screened and examined. These lenders works according to borrower's desire as they customize the loan request to the actual borrower's needs," said Tim Safransky. "We can arrange a closing in 5 days at hard money lender rates and fees with a meaningful down payment in the 30% range plus closing costs. In addition, another option of Fix and Flip introduced by our company closes in 15 business days and sometimes it takes less time. Unlike other lending companies, Private Lender1 gives best rate of 9.5% and maximum loan dollars based on 65% ARV to our clients," – concluded, Tim H Safransky
It should be noted that this is designed at hard money rates and fees with a meaningful down payment in the 30% range plus closing costs. Furthermore, the Private Lenders1 LLC Fix and Flip Loan Funding also gives borrowers a golden opportunity to get involved in reinvestment properties. With the loan, borrowers only pay 9.5% Interest and can borrow up to 65% ARV. Another thing that makes Fix and Flip Loan Program unique is the fact that it is Referrals Valued & Brokers Protected, making it the best loan deal anyone can get.
Media Contact
Company Name: Private Lenders1, LLC
Contact Person: Tim H Safransky
Email: Send Email
Phone: 813-244-7057
Country: United States
Website: https://privatelenders1.com