Glucose, Dextrose, and Maltodextrin Market: Drivers, Restraints, Opportunities, and Challenges
The glucose, dextrose, and maltodextrin market, in terms of value, is estimated at USD 34.47 Billion in 2018, and is projected to reach USD 51.87 Billion by 2024, at a CAGR of 7.0%
The report "Glucose, Dextrose, and Maltodextrin Market by Product (Glucose, Dextrose, and Maltodextrin), Application (Food & Beverages (Confectionery, Bakery, Dairy), Pharmaceuticals, Personal Care Products, Paper & Pulp), and Region – Global Forecast to 2024″, The market for glucose, dextrose, and maltodextrin, in terms of value, is estimated at USD 34.47 Billion in 2018, and is projected to reach USD 51.87 Billion by 2024, at a CAGR of 7.0%. The increase in demand from the beverage industry, intense research & development activities, and increase in demand for convenience foods are expected to drive the demand for glucose, dextrose, and maltodextrin in various applications. Glucose, dextrose, and maltodextrin are among the major starch derivatives used. Glucose is a sweetener used in a range of food products. It is produced by the hydrolysis of starch. Dextrose is a dextrorotatory form of glucose. It is used in baking products such as cake blends and toppings, snack food items such as cookies, and desserts such as custards and sherbets. Maltodextrin is moderately sweet or flavorless sugar, which is easily digestible and is absorbed as rapidly as glucose.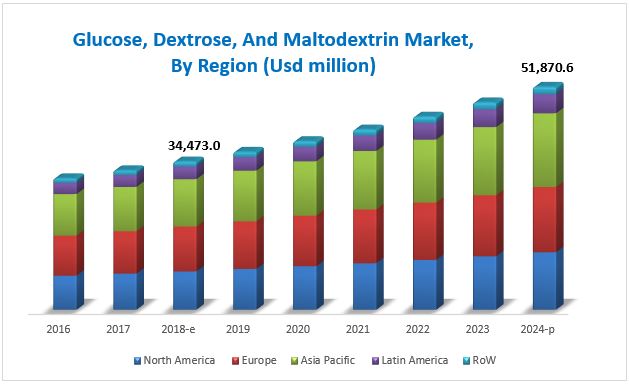 Download PDF Brochure: https://www.marketsandmarkets.com/pdfdownloadNew.asp?id=217379551
Selected Market Dynamics in Glucose, Dextrose and Maltodextrin Market
Rise in demand for beverages
Glucose and maltodextrin are widely used as sweeteners. The demand for cereal sweeteners is backed by the development of the soft drinks industry. The demand for soft drinks is rapidly increasing in the developing markets of Asia Pacific and South America. Although juices and aerated drinks can be sweetened by using saccharose sugar or low-calorie syrups, fructose and glucose syrups are generally preferred. This is due to the price effectiveness of glucose syrups and dextrose and technical properties such as enhancement of viscosity and visual appearance of the food items.
The growth of the beverage industry is mainly attributed to the increase in disposable income of consumers in developing regions such as Asia Pacific and South America. Since the economy is improving in these regions, the consumption capacity of consumers has increased, which has led to a rise in demand for aerated drinks—such as soft drinks and carbonated drinks—and non-aerated drinks.
Furthermore, the demand for maltodextrin is expected to increase over the next six years as it is used as a thickening and filling agent in beverages and is one of the key elements in sports drinks. In the North American region, there is a high demand for maltodextrin for sports drinks. The increasing health-consciousness among consumers is one of the major factors driving the demand for health drinks, which subsequently drives the growth of the maltodextrin market.
Growth in demand for gums as an alternative to glucose, dextrose, and maltodextrin
Food & beverages form one of the growing sectors for the application of glucose, dextrose, and maltodextrin; however, the rise in preference for gums such as gum Arabic, guar gum, xanthan gum and locust bean gum over starch-derived products is emerging as a restraint for the market. It has been analyzed that food & beverages stabilized with sources of gums attain better stability than those with modified starches.
Gums are posing a threat to starch derivatives such as glucose, dextrose, and maltodextrin in various food & beverage segments, where they are utilized to prevent sugar crystallization as well. The increase in preference for gums may restrain the usage of starch derivatives in the foods segment. Along with taste, texture, and stability, gums also provide functional benefits to food & beverage products. The demand for natural gums, such as acacia gums, is increasing significantly as it is considered 100% natural and GMO-free, and can also replace sugar with the same texture and binding properties which have the potential to influence health-conscious consumers to opt for this product
Speak to Analyst: https://www.marketsandmarkets.com/speaktoanalystNew.asp?id=217379551
Asia Pacific is projected to be the fastest-growing regional market for glucose, dextrose, and maltodextrin.
The Asia Pacific region is projected to be the fastest-growing market for glucose, dextrose, and maltodextrin over the next six years, owing to an increase in overall economic growth, with diversity in income levels, technology, and demand from end consumers for better quality food products, leading to enhanced scope for future growth. The main countries contributing significantly toward the growth of the market in this region include China, India, and New Zealand. The rapidly growing convenience food and personal care industries in the Asia Pacific region have led to an increase in the consumption of glucose, dextrose, and maltodextrin products.
In this region, countries such as China and India are estimated to account for a major share of the market. Thailand is projected to be one of the fastest-growing markets for glucose, dextrose, and maltodextrin in the Asia Pacific region.
This report studies the marketing and development strategies, along with the product portfolios of leading companies such as ADM (US), Ingredion (US), AGRANA (Austria), Tate & Lyle (UK), Cargill (US), ROQUETTE (France), Grain Processing Corporation (US), Avebe Group (Netherlands), Tereos (France), Global Sweeteners Holdings (Hong Kong), Gulshan Polyols (India), and Fooding Group Limited (China).
Media Contact
Company Name: MarketsandMarkets
Contact Person: Mr. Shelly Singh
Email: Send Email
Phone: 1-888-600-6441
Address:630 Dundee Road Suite 430
City: Northbrook
State: IL
Country: United States
Website: https://www.marketsandmarkets.com/Market-Reports/glucose-syrup-dextrose-maltodextrin-market-217379551.html